When you are single and traveling, a family-friendly resort might not be exactly what you are looking for. If you want to meet that exotic future miss right, or miss right now, then you have to do a bit of planning and pick places where you have a chance to make some new friends. There are many places that are great to go to, but unless you are an easy and social butterfly, some places are harder than others, and some places are nearly impossible due to culture. We have selected a few locations where as a single tourist you are an attraction, as well as the culture is looser on foreign relationships.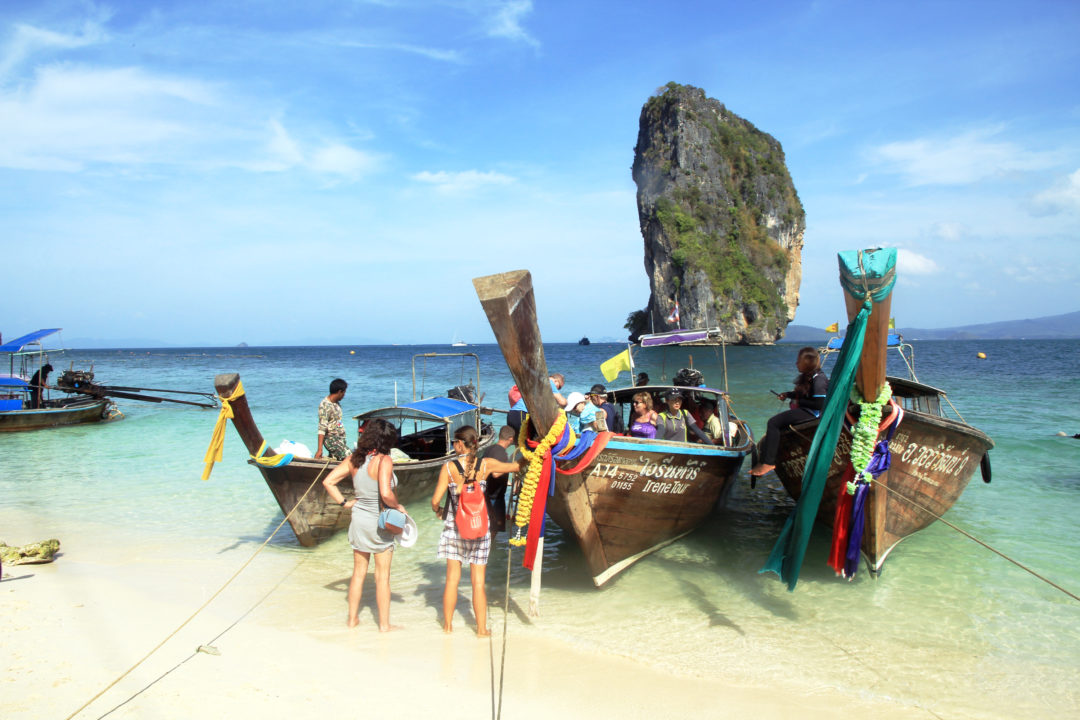 Philippines
The Philippines is an amazing place, the people are friendly, the women beautiful. For a future relationship, as a rule, Philippinas are more loyal than most western county women (assuming you don't meet her in a bar). Philippinas will be happy to chat with you, regardless of age, and can be quite forward in saying hello. The Philippines is also very inexpensive to stay and travel in. We were there recently and had dinner at an upscale floating restaurant with drinks, for $20 total for 2. You are lucky to get McDonalds for that in the states. We also went out clubbing and booked a VIP area with a full bottle and snacks for $50, try that in Los Angeles. 
Thailand
Another great entry to the list is also in Asia. Thailand is another one of those places that foreigners are deemed attractive and the people are very happy and smiling. Just avoid public displays of affection and don't reach for her face for a caress in public without permission. The food in Thailand is amazing and inexpensive, as are the hotels. It is fairly safe in Thailand, though there are scams galore. There is even a branch of the police called the tourist police that act as insulators for tourists because if you run afoul of the local police it can get costly. As for finding a wife in Thailand, a few of our friends that have married Thai women are very happy, but they give advice that Thai wives are great wives, as long as you stay in Thailand. 
Costa Rica
If you are into a bit more adventure, from white water rafting to ATV tours, then Costa Rica might be the place for you. The women are beautiful and available. The beaches are great, and the people friendly. If you do bring a girl back to your hotel, we advise making sure that the hotel vets her ID, as if you get caught with someone underage you will be in for a very rough time. Some of the women here are very hard to tell, as the dress culture is very mature. If you decide to marry one of these beautiful women, they are very loyal but be prepared to deal with testing and a hot temperament, as it is cultural.
Brazil
One of the great party countries is Brazil, I mean who hasn't heard of Carnival in Rio De Janeiro! You will see some of the most beautiful women in the world here (in our opinion). When you are in Rio, you have to be a little more assertive than if you were in Thailand or the Philippines though. The women here have a culture which is more about the guy being a guy. Brazil is fairly safe if you stay in the foreign friendly areas, and ask your hotel their opinion on where you might be going and what area. They will know if you are making a mistake. Daytime it is fairly safe, and nighttime you just have to be a little more careful, but it is definitely worth the risk for the beaches and the people.
Ukraine
The Ukraine is another place where you can find amazing women. If you aren't into the Latin or Asian look, then Ukraine is the place to be. The women are very upfront and don't really respond to subtly. For an example, if you ask her what she is doing Friday, she will tell you what she is doing Friday, she will not understand that you are asking her out on Friday. Just ask them out. For future wives, we have been told that Ukrainian women are great equal and supportive partners. Of course, as in any women from another country, use your brain. 
Whether you are looking for fun or a future relationship, these countries offer some of the best travel opportunities for single men. Of course, you have to be careful of scammers, as there are many of them out there. There are literally thousands of women that make a living off getting you to send them money and tell you that you are the only one, when in reality they have a rolodex of men. That's not to say you can't find the future wife, but it means be careful. For a visit? These countries are great, and you can have some of the most memorable experiences with some of the most beautiful women, and still spend less on the vacation than you would for in most other countries. Party like a rock star.